In This Episode
More Samsung Galaxy S10 Leaks
The Future of the Apple iPhone from the iPhone 11 and Beyond
Did Samsung Accidently leak their Galaxy X Foldable Phone?
This video was sponsored by RavPower. Their next generation GaN charger is astoundingly slim compared to other chargers and can charge up to 2.5x faster than a standard 5V charger. Pick one up today to not only enter the future, but support This is Tech Today.
General Transcript
INTRO: Whoa, did Samsung accidentally leak their unreleased Foldable phone tablet, the Galaxy X? There's actually a ton of leaks this past week including the upcoming Galaxy S10, the Apple iPhone 11 and beyond. I'd love to know what you think about all of these leaks. Let's talk about it, because this is tech today.
WELCOME: Hey friend this is Brandon your host of this is tech today, your source for honest tech reviews, the news, and my views, and you're watching This is Tech This Week, a weekly show IN ADDITION to my other content where I go over tech news from this past week that personally interests me. If that's something you're interested in, make sure to share, subscribe and hit the bell to be notified of when I post a new video or Zuckerberg will give you $20 and spy on you.
[Clip from hide yo kids, hide yo wife]
Samsung Galaxy S10 Devices Have Leaked: The Samsung Galaxy S10 will be announced later on this month at their Unpacked event in San Francisco, and quite a few leaks have come out showing press images of the devices and some prices along with it...and the phones look pretty hot.The names seem to be solidified as the Galaxy S10e for the "budget" option, which we'll talk about soon, the Galaxy S10, and the Galaxy S10 Plus. The Galaxy S10e will only have two lenses on the back with a flat 5.8" screen and thicker bezels, like the iPhone XR compared to the iPhone XS. There's also a fingerprint scanner on the side with one of the buttons and an estimated price of about $749 in the US.
The Galaxy S10 hasn't had the press images leaked from what I have seen, but it does have a 6.1 inch screen with the curved edges, super minimal bezels, a triple camera setup on the back and is estimated to be around $899 in the US.And then the big boy. The Galaxy S10 Plus will have a 6.4" screen, the same size as the Note 9, which is nuts, and the same great features of the normal Galaxy S10 with the addition of two cameras on the front. The galaxy S10+ will not have four cameras on the back as some of the rumors suggested, but three. The price is estimated to be $999 for the base level Galaxy 10 Plus, which I still find expensive, but I appreciate that they didn't go over $1,000 like the iPhone. I imagine that line will be crossed with the Note 10 though.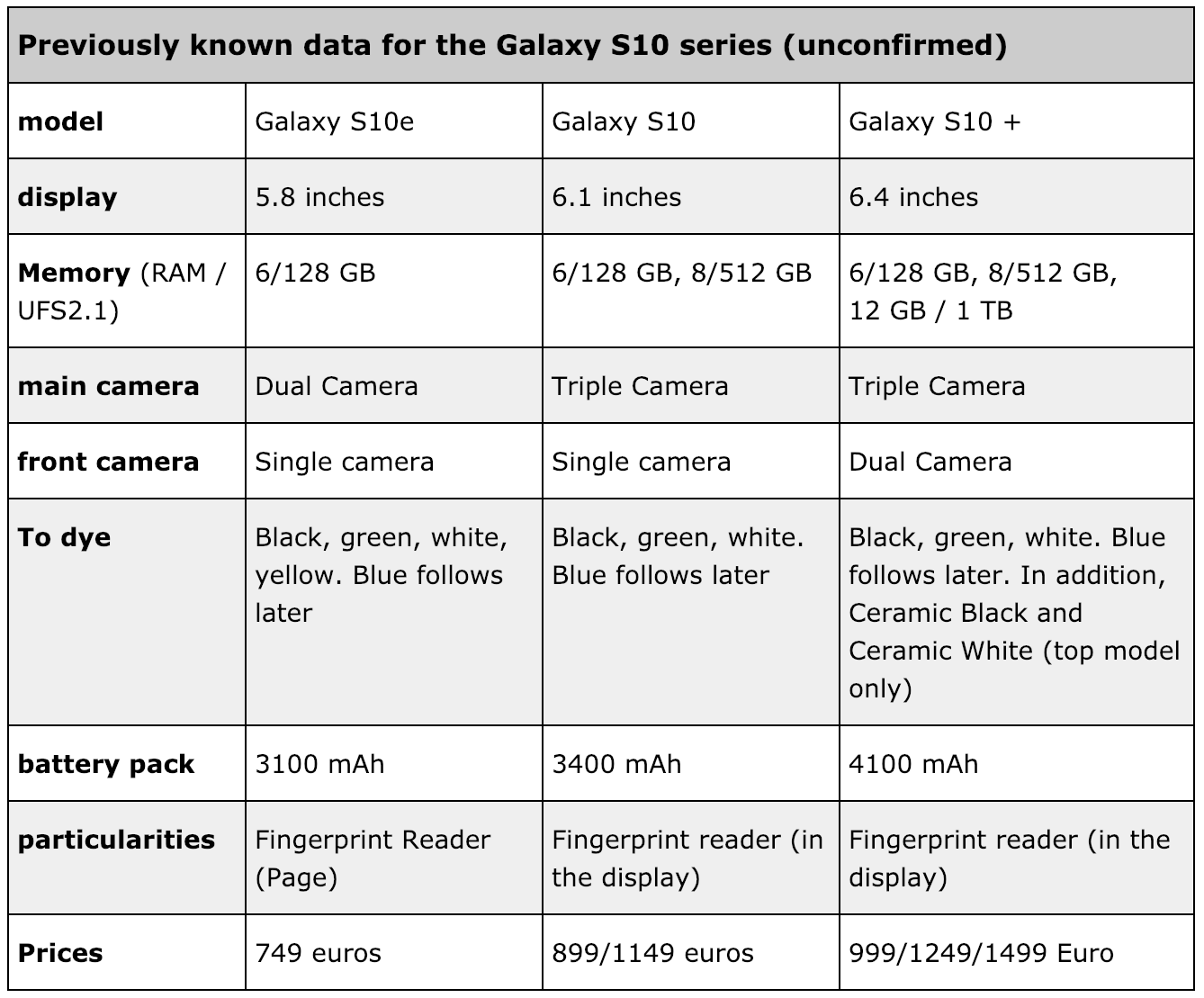 Here's a helpful chart to show you the difference in specs including battery life and storage options. All three will have headphone jacks, at least 6GB of RAM, and the Galaxy S10 Plus will allow you to choose an option for storage up to 1 terabyte. I store and edit these videos on a 1 Terabyte drive. What in the world would you need that much space for? Let me know in the comments.
The three colors that we know about so far are prism black, prism green, and pearl white. Other colors are planned for a later time. I'm not feeling the green one too much and the white one feels a bit like an oil spill to me so I think may go with the prism black one. Now, let me say something about the prices here. The Galaxy S10e is priced at about the same spot as the iPhone XR, which makes it seem like a response from Samsung to have a device in the same price tier. Hopefully, the screen is better, but I still don't think $749 is what should be considered "budget." That's still a lot of money, especially in light of phones like the OnePlus 6T.
If they priced this at $699, I think it could have something there to make people think twice when looking for a phone in that range. At the end of the day, if these phones are too expensive, we usually see deals for Samsung phones a month or two later here in the US, so patience can be a benefit to you.Let me know what you think of these leaks and which one you are most interested in and what you think of their prices, and why these icons are not centered with the cutout. Argh. Join the discussion on the This is Tech Today community discord server. We're a wholesome group of friends who are creating the community we've been looking for. Come join us by clicking the link in the description.
The Future of the Apple iPhone: Samsung wasn't the only one to have a big leak this week. Mark Gurman from Bloomberg has some information on Apple's upcoming iPhone 11 and the iPhone that will come out in 2020, yes another generation later. The dude continually has huge leaks that have been pretty spot on. Here's what he had to say.
FaceID will improve for all 2019 iPhone models and may have USB-C, which would be pretty great. The largest iPhone, which I think means the "max" model will have a triple camera setup. The third lens will be a wide angle lens instead of a telephoto lens, which means you'll be able to see far more of your surroundings from where you stand compared to the normal camera lens. This is super practical and I think will be nice! iOS 13 will bring Dark Mode and supposedly a new home screen for the iPad, which may make better use of that space and make it act more like a laptop replacement like Apple keeps pushing. Also, there will be longer live photos. Do any of you use live photos?
The most interesting part Gurman's article has to do with what we'll see in 2020. The iPhone will have laser-based 3D camera systems that will allow it to have really powerful Augmented Reality capabilities. You've seen augmented reality with games like Pokemon Go, and Apple has been showing it off a lot in their keynotes, but what if you could have a powerful system in your phone that allows you to scan and recreate your environments up to fifteen feet away? That would be nuts. Ikea is going to be all up in that. Huh, I wonder what they'd name an app that does Augmented Reality. Leave some funny name ideas in the comments.
Of course, that will also allow it to take better pictures with more depth data and may be a hint at the rumored augmented reality glasses or headset that has been worked on for quite a few years. That may be Apple's new game changer. Are you interested in Augmented Reality?While I'm not entirely sure what will be mind-blowing enough to get people to upgrade their iPhones this year, I hope they increase the battery size or at least include a fast charger.
SPONSOR:
Speaking of fast chargers, if you didn't know, there's a charger revolution happening right now with Gallium Nitride chargers and I have one here from this video's Sponsor, RavPower. RavPower's Gallium Nitride charger enables a ton of power in a really small, ultrathin design. I mean, look at how crazy small it is next to this huge Macbook charging brick. Because of its small, thin, and lightweight 3.2 ounce design, by the way, their website says 3.2 ounces but I'm get 2.8 ounces, so even better. But because of their lightweight design and technology it is fantastic for travel.
It supports fast charging on most major flagship phones back to the iPhone 8 and Galaxy S8 and works on tablets like the iPad Pro or laptops like the Macbook, and Macbook Air. *Macbook Pro devices charge up to 45W compared to the maximum 65W.If you want a really great charger than charges 2.5X faster than a standard 5 Volt charger, make sure to click the link in the description to pick one up.Thank you so much RavPower for supporting this community and thank you to all of you who help support me by supporting our sponsors. Let me know in the comments if you pick one up!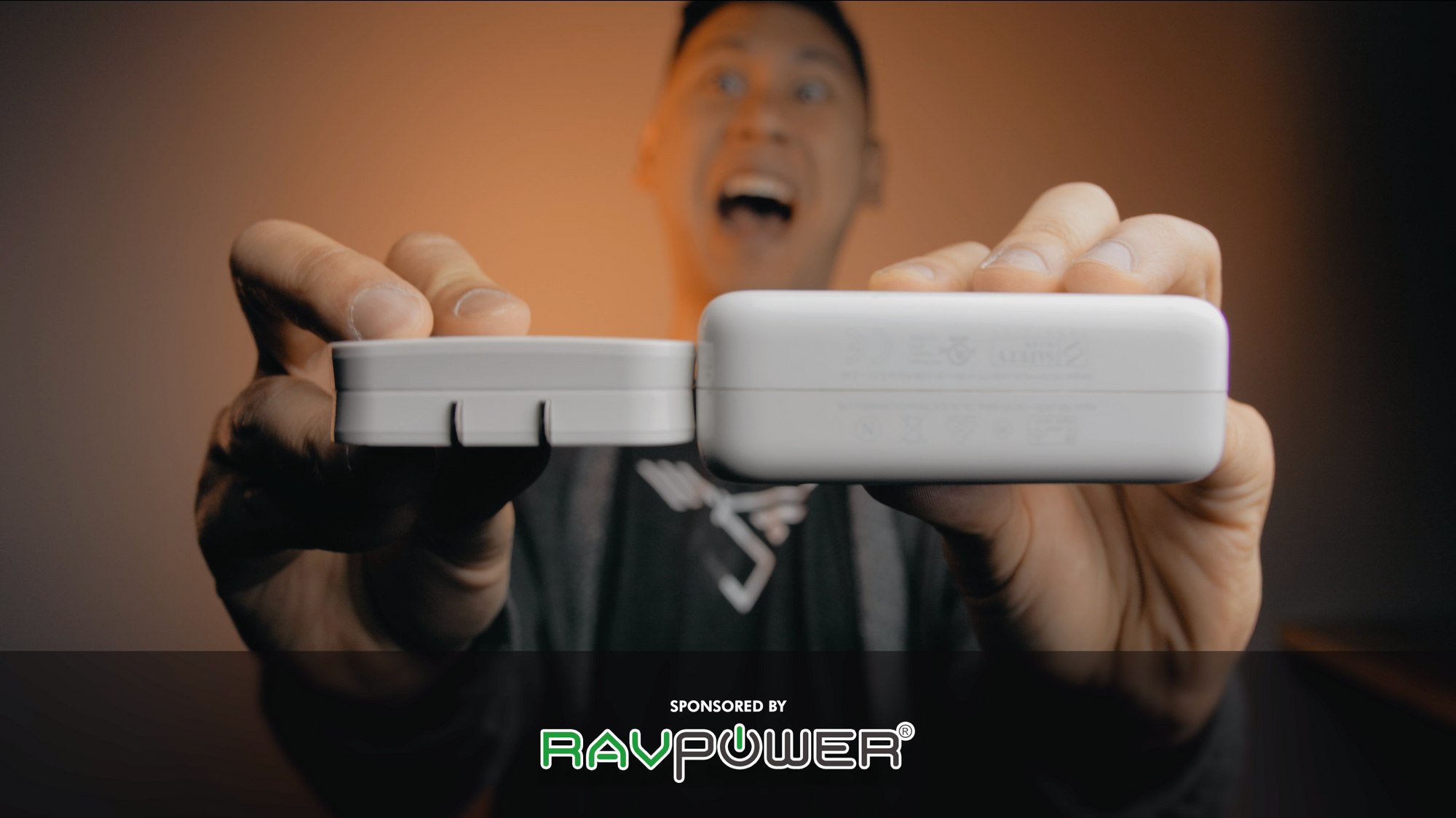 Did Samsung Accidently Leak their New Foldable Tablet Phone? With all of the hype building up to the Unpacked event on February 20th, Samsung has been prepping a bunch of commercials and teasers for all that they're announcing at the even, and likely even the Super Bowl. Well, a commercial was accidently posted by Samsung Vietnam and taken down shortly after. The internet being what it is, made multiple copies of the video and reposted it.
Towards the end of the video we see a woman holding a foldable device in mid-fold and I have to admit, if that is what the actual device looks like, I'm really amazed because it looks super slim, sleek, and can fold INWARDS.We've seen foldable designs from Royale and Xiaomi, but they've been really clunky looking designs with thick bezels and the screen only bends with the screen facing the outside, not the inside. Even Huawei is trying to get in on the foldable phone action in a teaser that they released ahead of Mobile World Congress on February 24th. That one also seems to have a screen folding on the outside. The only phone that has potentially teased an inward facing fold is the upcoming Motorola Razr....in concepts.
As Marques Brownlee pointed out, the current foldable phones we've seen so far are these clunky devices that have bad software along with it. So, does Samsung have a foldable phone that actually has a nice thin profile, folds flat and flush with itself like a folio case, and has an inward folding screen? Or is this just a concept render that made it into a commercial and isn't actually real? Some people don't think it represents anything real. Basing what we saw at the initial announcement of the Galaxy S foldable phone, even in its case it doesn't look exactly like what we're seeing in this video, specifically with the outside screen, so that does leave room for doubt.
What we do see is the inward facing fold which looks pretty amazing compared to the other options. For me, I hope it's real, but I have a good feeling we'll find out for sure later on this month. Let me know what you think of the design in the leaked video and if you think it's real or not.
OUTRO: That's it! Make sure to check out my last video where I talked about all the crazy cool designs coming out from team android and asked the question, can the Galaxy S10 phones dethrone the Apple iPhone XR and XS? Click the card in the top right to watch it and check out my website at www.thisistechtoday.com
Make sure you share, subscribe, hit that bell icon if you haven't already. Thank you for watching this is tech today, you just watched This is tech this week. Until next time, Oh and hey, have a great day.